Packers and Movers Hassan
Aarkay is Hassan's leading Service for Packers & Movers. Our Packers and Movers in Hassan foremost objective is to offer a satisfactory relocation service at an affordable price. We follow a unique approach to packing and moving that helps us reduce wastage in the Movers & Packers business today. Our
processes are fully automated – with dedicated to assist you – right from getting you price quotes, to insured breakage-free on-time delivery at a new destination.. 
Our salient features are:
 24 Hours Customer Care Support
 No damage to products
  Timely Delivery
 Personalized services


Packers and Movers in Hassan Karnataka
Whether you want to shift to a new house or want to shift your office to a new location, we could be your most sought-after partner in your moving-related needs. We have the necessary technology, resources, expertise and most importantly a passion to serve that help us in moving ahead with confidence.
Do you want to relocate from Hassan to any other parts of Karnataka? Then you have landed at the right place. Aarkay packers and Movers are one of the reputed and professional packers and movers in Hassan, Karnataka to shift all your belongings to your desired destination with complete safety and guaranteed damage-free packing and moving services.
Aarkay Packers and Movers Bangalore
25 2nd cross Hsr Layout, 7th sector, Bommanahalli, Bengaluru, Karnataka 560068, India
Monday – 24hrs
Tuesday – 24hrs
Wednesday-24hrs
Thursday-24hrs
Friday-24hrs
Saturday-24hrs
Sunday-24hrs
We follow business morals and ethics and provide our customers moving and packing services for almost two decades. Aarkay Packers is one of the well-known and established firms utilizing high standard and quality packaging material and latest
techniques to pack all your valuable items so that it can be transported safely without any damage.
Packers and Movers in Hassan – Karnataka is one of the top relocation service providers specialized in Packing and Moving of goods and having an objective to provide exceptional, consistent and appropriate packing and moving services to all over India. We offer stress-free relocation services at most affordable rates. We have gained a huge reputation and authority among the customers and offer local shifting for office and household in the most trustworthy way. We have a team of highly skilled professionals in- house and the entire work is supervised by our experienced managers.
Aarkay Packers and Movers in Hassan
Aarkay Packers is one of the leading and trusted relocation service providers in Hassan among all the packing and moving companies. We offer a wide range of services in Hassan based on the inclination and needs of our customers. We have a team of highly skilled professionals who are pioneers in providing all types of packing and moving of all your valuable goods from one place to another.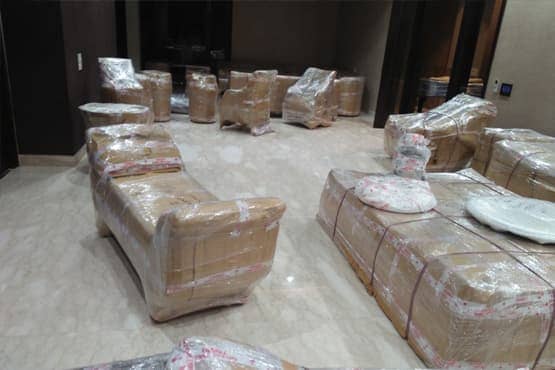 Being one of the top packers and movers in Hassan Karnataka we provide our clients diverse types of packing and moving services including packing and moving of official relocation, industrial and Residential relocation, industrial moving, domestic relocation, etc. in order to have safe and secure packing and moving your valuable household or office goods or vehicles we provide you insurance coverage with warehouse facility options to our clients. Relocation services are handled by our expert team of professionals by road approach with the closed containers. We have a team of expert staff who will always coordinate with our clients and complete the entire packing and moving process on time with high-quality services in place.
We strive for total client satisfaction, that has helped us secure a long list of delighted clients. Our professional and skilled moving team goes through attentively over every particular point of any moving work and takes the most suitable steps to meet the exact needs by delivering outstanding relocation services in Hassan. By taking correct security measures we prudently pack and transport your furniture and other pickings of home or office, for which Aarkay Packers and Movers are considered to be one of
the best House and office relocation service providers in Hassan.
Call us today for the Packers and Movers in Hassan for your shifting needs!
For Safe Packing & Moving Services
Call us : +91-9886478605
Email us: [email protected]
Six Reasons For People Choosing Us
Don't Know What To Start With?
Get A Solutions Form Aarkay Packers and Movers
Aarkay Packers and Movers Bangalore