Home Shifting Tips for Movers and Packers Bangalore
Home Shifting Tips for Movers and Packers Bangalore
Home relocation is said to still bring about the most devastating experience for many. Even in the presence of the movers and packers in Bangalore or any other state, people go through massive upheaval to get their goods safely and swiftly to the desired address. All those local moving companies can promise you to make your relocation completely convenient, painless, safe, fast, with a vast collection of household furniture, electronics, showpieces, glassware, antiques, other daily uses Of essential items, you will need dependable, expert and skilled people to help you move your home with zero risk of damage and delay.
If things don't go according to your plan, your day can turn into your worst nightmare. On one hand, you struggle to hire the right packers and movers from reputed logistics service aggregators like Aarkay Packers and Movers in Bangalore, you need to know more about the relocation procedures to move your domestic property to your satisfaction Might be possible.
Why Need Expert Movers and Packers Bangalore
It is quite clear that you cannot hand over your valuables to any local seller without a proper background check as most of them are unprofessional, unreliable, dishonest, and unproven to facilitate the nationwide movement of goods. In addition to paying higher moving rates due to distance, time, transportation, packing, labor, and other additional charges, most customers report fraud from some fake transfer companies operating in the logistics market.
You can only rely on professional movers and packers in Bangalore to stay away from hidden costs, inconveniences, scams, and other major relocation problems. Moreover, hiring verified and licensed moving companies is the best decision to avoid bothering your pocket as well as your valuable assets which deserve the highest protection and care during this move.
No matter if you are in the mood to self-move your home or have some packers and movers to move the house for you, you should prepare yourself to tackle the challenging aspects of moving goods. Having home relocation experience doesn't mean you can manage. Hence, here are some cool tricks and tips shared by our skilled movers and packers Bangalore, who are trained in a hassle-free home relocating is…
Aarkay Packers and Movers Bangalore
25 2nd cross Hsr Layout, 7th sector, Bommanahalli, Bengaluru, Karnataka 560068, India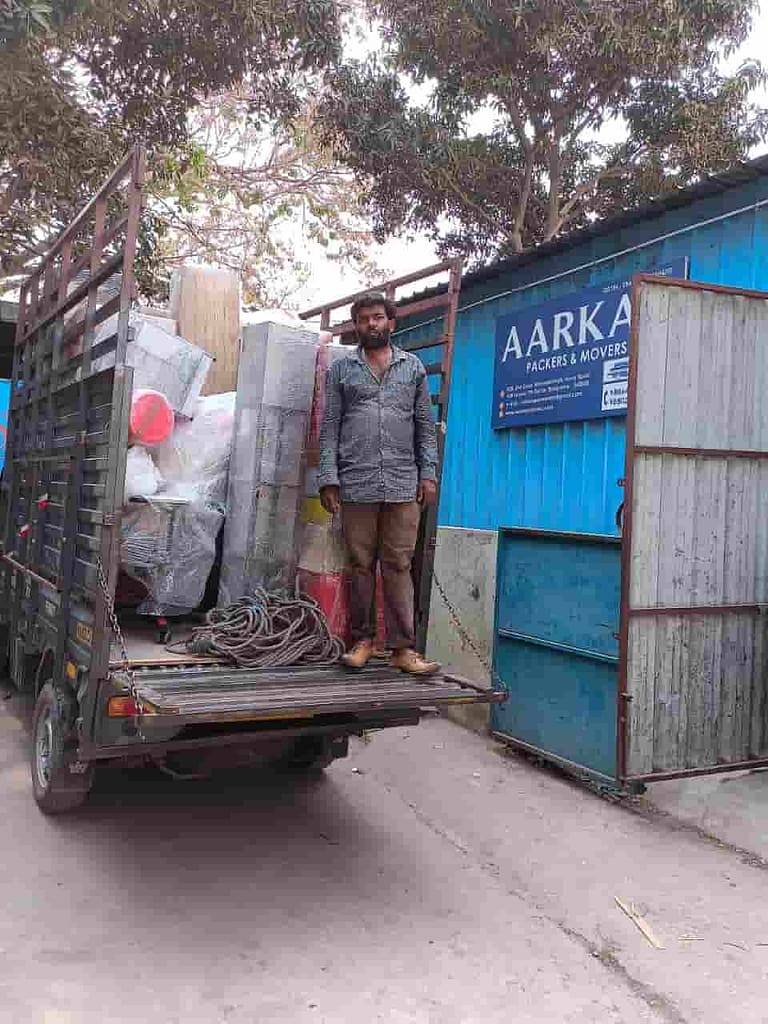 Monday – 24hrs
Tuesday – 24hrs
Wednesday-24hrs
Thursday-24hrs
Friday-24hrs
Saturday-24hrs
Sunday-24hrs
Remove unwanted items from the list
Try to reduce the number of items you are moving to the new place. All those bundles of unnecessary items like old clothes, broken electronics, damaged showpieces, used cans, etc. can demand unwanted cost, effort, and time in packing and other handling processes. Putting all those collectibles and antiques aside, you should get rid of useless items that you will no longer use after relocating to your new location. This will not only save your money but will also ensure ample space in the moving truck for other essential movable items.
Categorize Running to Stay Organized
Do you know the real secret of successful relocation? It is all about proper organization done by the best packers and movers in Bangalore. Shifting professionals always classify household items before packing and transporting them to the destination address. Fragile items such as glassware, crockery, china products, wall paintings, mirrors, wine glasses, showpieces, etc. are marked as fragile items while wooden furniture and electronics are labeled differently according to their type. goes. It helps packers and movers to organize the smooth transfer of household items with the easy handling of each item.
Use plastic containers to pack essentials
The best packing and moving use special moving boxes to keep your belongings from breaking. However, they always advise customers to keep their essentials safely in plastic containers to avoid them getting lost or lost amid the hassles of moving processes. Many essential items like utensils, utensils, charges, medicines, toiletries, etc should be packed in separate boxes so that you can easily reach them immediately after moving into your new home. It is better that you choose transparent boxes made of plastic material for the safe storage of such essentials.
Confusion in the moving process invites unexpected troubles. Our skilled packers and movers in Bangalore use different color codes to mark packages with different items from each room. This will help you identify items from the same room while unpacking them after being transferred.
Be prepared to face the risk of loss
Professional movers and packers in Bangalore and other major cities dedicate their hard work to avoid every possible risk of breakage or damage during the home shifting. They visit the customer's location to conduct pre-movement surveys and make all necessary arrangements to minimize the problematic aspects of the relocation processes.
When you rely on packers and movers in Bangalore to move your valuable property, you can certainly expect to get quality and affordable relocation services from the selected relocation company. Don't be surprised if your relocation service provider offers some discounts or rewards for relocating with them as most of the professional packers and movers offer special benefits with their value-added services.
Six Reasons For People Choosing Us
Don't Know What To Start With?
Get A Solutions Form Aarkay Packers and Movers
Aarkay Packers and Movers Bangalore